Sound, Young, Growth, Syndicate, Bike
☕ Good Morning!
Been WFH and missing the office atmosphere? KP has found a solution: The Sound of Colleagues. The website offers a number of background noises you can adjust, such as keyboards, rain, printers, or people. So switch on and feel a little of the office vibe at home!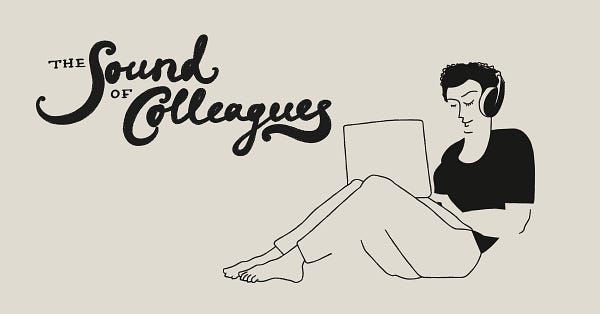 soundofcolleagues.com
Are you too missing the office?
Are you too missing the office? Keyboard clattering, office dogs and printer errors.
---
🚀 Maker News
@petecodes from No CS Degree interviews 18-year-old Miguel Piedrafita, a high school student who has already sold two projects and now focuses solely on his latest launch Sitesauce. And he's doing all this while trying to complete his IB Diploma! I can only agree with his proven philosophy: "If you can't get something working, google it!" Congratulations on your success so far, I'm sure you will have a promising Maker future! Read the full story here.
Jack Butcher shares with us Visualize Value's impressive revenue growth since January of this year. He points out that last year in May, his product revenue stood at $300, this May he has so far reached $85K - now that's what I call growth! Congrats on your deserved success!
---
🏗️ Build + Launch
Moses Kagan shares an interesting conversation with Tyler Tringas on how to set up a repeatable mechanism for syndicating individual investment deals. In his example you would require $50K initial capital. Worst-case scenario, you will have to invest all of it in one project, best case you syndicate all of it, take a 20% carry, and move onto the next deal with your initial capital preserved. Very smart!!!
For everyone who is working on newsletters, Substack is hosting a series of workshops around the topic of growth, community, and paid newsletters. The first session is next Tuesday, May 26th with actioncookbook, written by Scott Hines. Learn more about the Substack series here.
---
🖥️ NoCode
Emmanuel Straschnov, the founder of Bubble, shares this Wired article, written by Clive Thompson on the rise of NoCode. At the end of the piece Clive surmises that this trend may "be a useful corrective to the cult of the Brilliant Tech Dude. If nearly anyone can do this, some of the magic dies. And some new magic, possibly, is born." Sounds great! Read the full article here.
And to show how NoCode is booming, @bryantchou, CTO and co-founder of Webflow announces that their MRR in April 2020 has grown by 297% vis-a-vis April 2019. Congratulations on your continued success and your brilliant product!
---
💭 Afterthought
To finish off the day, some news on transportation choices. The Hustle has written an article on how the bike boom is taking off in America. It seems this will last beyond the current pandemic as we see cities around the world like London and Seattle, shutting roads and creating more space for bicycle lanes. Read the short article here. Have a great evening!